For over 90 years, Jaycees have been a force for good in America and around the world. Jaycees helped establish AirMail services in America with Jaycee Charles Lindbergh, and have raised millions of dollars for causes such as the Muscular Dystrophy Association and the March of Dimes. Your Home Town Lake Geneva Jaycee's have been hard at work for almost 51 years now!
2013 VENETIAN FESTIVAL 51st Annual
Created by and Sponsored by Lake Geneva Jaycees - since 1962
Days of Operation
August 14th through August 18th, 2013
Wednesday - Friday 5pm to Midnight.
Saturday & Sunday Noon to Midnight.
Location: Flat Iron, Seminary and Library Parks - Lake Geneva, WI.

Lake Geneva Jaycees Facebook Page
To Purchase Venetian Festival 50th Anniversary Posters click here.
---
Bands | Beer Tent | Craft Fair | Brat Stand | Carnival | Water Ski Show | Fireworks | Boat Parade | Contact Us
---
Entertainment Schedule (SHOW TIMES/INFO SUBJECT TO CHANGE )

(Located in the Jaycees Entertiament Pavilion "Beer Tent" - Must be 21 to enter - WE ID!!!)
Wednesday August 14

8PM-12AM OPENING NIGHT

"Bella Cain"
www.bellacain.com

($3 Cover Charge at the door)

Sponsored by

2012 WAMI (Wisconsin Area Music Industry) "Country Group of the Year" Bella Cain is a hot, young, high-energy Top 40 Country group that delivers a non-stop and explosive performance to every show. With a "Big" guitar sound, they also bring 5-part harmonies, fiddle, piano, banjo, mandolin, a rock solid rhythm section and male/female vocals to the stage delivering a full and dramatic sound unmatched regionally. Bella Cain has recently performed along side such Nat'l acts as Brad Paisley, Bucky Covington, Lee Brice and in Oct will be sharing the stage with Justin Moore. With a state of the art light show, fantastic musicianship, great stage presence and a sound all their own, Bella Cain is leading the way in the regional country music scene! While based out of Wisconsin/Illinois and performing the hottest new Country Music on radio today, some age old favorites and a few tricks up their sleeve, Bella Cain is winning the hearts of fans all over the Midwest.

 
 

Thursday August 15

8PM-12AM RETRO NIGHT

"The Student Body"
THESTUDENTBODYBAND


($3 Cover Charge at the door)

Sponsored by

Chicago's HOTTEST new cover band is ripped right out of your high school yearbook pages! A fun and entertaining play on all the cliques that ruled your school, The Student Body plays all your favorite high energy hits that will leave you reminiscing about all your HS conquests (acne and insecurities not included).

The Student Body needs YOU to be a part of the experience! Every show is a pep rally, so dress in your favorite cheerleader or pom squad outfits...or wear your school spirit gear...and you could be rewarded!

 
 

Friday August 16

8PM-12AM

"The Toys"

($5 Cover Charge at the door)

Sponsored by

WISCONSIN'S PREMIER ROCK,COUNTRY and DANCE BAND!
A Friday staple of Venetian Fest, audiences have enjoyed THE TOYS' explosive and energetic revival of hot music from the 80's to today's hits. Combine that with unmatched creative sound & light production and a mass following and you've got one of Wisconsin's top drawing bands.

When you think of great entertainment in Wisconsin, THE TOYS immediately come to mind. The song list scales top dance and rock hits from the 80's to today's current country and modern hits. These professionals are the real thing for real people which always assures a guaranteed good time. THE TOYS are Nightclub and Festival staples in Wisconsin - practically a household name for anybody with great taste in music. Don't miss the experience that is THE TOYS!

 
 

Saturday August 17

12PM-3PM DAY

"Fresh Hops Band"

(No Cover Charge)

Sponsored by

A quartet hailing from Northwest Indiana with over 500 shows under their young belts, Fresh Hops' sound has evolved at the same rapid pace as their fan base has grown. Through their four years as a band, these are guys who have always strived for being a well-oiled roadshow. Putting elastic, unpretentious fun at the core each time they take the stage, you get a different outcome depending on the stew of innovative originals and non-cookie-cutter takes on covers that the band chooses to be appropriate for that particular set. Their realization that jazz, classic soul, bluegrass, classical, metal and progressive jam rock can all shake hands and play nice has guided them to create remarkable tunes from an ever-expanding palette.

 
 
 

Saturday August 17

12PM-3PM DAY

"Baggo Tournament"

 
 

Saturday August 17

8PM-12AM NIGHT

"Too White Crew"

($5 Cover Charge at the door)

Sponsored by

There is simply no band anywhere like the Too White Crew. It is a tribute to the golden era of hip hop, featuring all-live music (no tracks) from a six piece band, accompanied by choreographed "Fly Girl" dancers. It's a party band – it's a show – it's art – it's madness on stage — all packaged in an unprecedented way. TWC has opened for countless hip hop & pop legends and is the only band in the past decade to perform at the Playboy Mansion. Too White Crew's nationally-touring show is also one of the top-requested festival acts.

 
 

Sunday August 18

12PM-3PM DAY

"Lake Geneva House of Music"

www.lakegenevahouseofmusic.com

(No Cover Charge)

Sponsored by

The Lake Geneva House of Music is the number one choice for performance-based music schools in the Geneva Lakes area.

 
 

Sunday August 18

8PM-12AM NIGHT

"Petty Thieves"
www.pettythieves.com

($3 Cover Charge at the door)

Sponsored by

Petty Thieves is a high energy Classic Rock Cover Band that will keep you entertained and dancing as they bring you a wide variety of Classic Rock Music. Petty Thieves has performed at Milwaukee's Summerfest and many other well known Venues in the Wisconsin and Illinois surrounding area. With hundreds of songs ready to play, Petty Thieves tune themselves to the crowd to assure a memorable show every time! Lake Geneva's Best Cover Band.

 
 
 
 
 
 
 
 
 
 
---
---
Beer Tent Hours


The Lake Geneva Beer Tent is open Wednesday - Friday 5pm to Midnight. Saturday & Sunday Noon to Midnight.
Currently serving the following fine Beverages from our Sponsor Beachwood (Budweiser)
Budweiser, Bud Light, Bud Light Lime
Moon Man, Spotted Cow, Totally Naked
Fat Tire, Guinness, Sprecher's Amber
Shocktop Lemon Shandy, Shocktop Apple Wheat, Geneva Lakes Raspberry Wheat
Bud Light Lime-a-rita and Straw-ber-rita
Monster Energy Drink and Rehab
Non Alcoholic beverages available as well
Beverages may be purchased in the beer tent only with Tokens. Tokens are available in the beer tent.

*Price and Availability subject to change.

---
Date: Saturday August 17th and Sunday August 18th
Hours: Sat 10AM - 5PM, Sun 10AM - 4PM
Location: Library Park - Lake Geneva Lake Front Main Street - Hwy 50 West
Exhibitors: 110
Admission: FREE
For more information about the Craft Fair or if you are a Vendor please visit our Craft Fair Information site here
---
---
Sponsored by Pody Door
Date: Saturday August 17th and Sunday August 18th
Hours: 10AM-4PM Sat and Sun & 8PM-10PM Sunday

Location: Library Park - Lake Geneva Lake Front Main Street - Hwy 50 West
Brats, Soda, Water, Chip, Pretzels and Candy
---
Carnival Information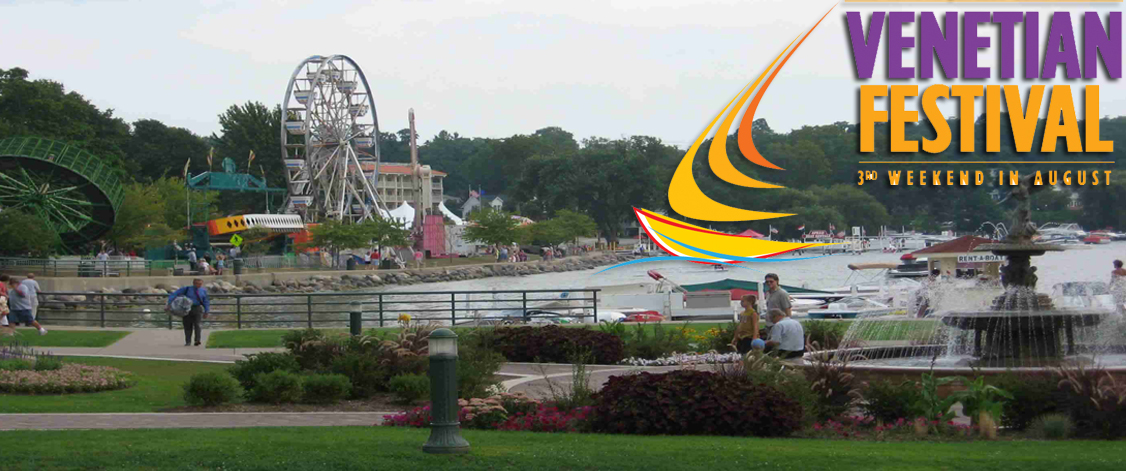 Date: August 14th through August 18th
Hours: Wednesday - Thursday 5PM to 10:30PM. Friday 5PM to 11:30PM. Saturday Noon till 11:30PM. Sunday Noon till 10:30PM
Location: Flat Iron Park and Seminary Park
Ride Specials: $20 "wristbands" Wednesday & Thursday 5PM-10PM and Saturday Noon to 5PM
Carnival Operator: Mr. Ed's Magical Midways, LLC.
---
Water Ski Show
Information
Wonder Lake Ski Team

Date: Sunday August 18th
Hours: Starts at 6PM
Location: Geneva Lake Front by Library Park & The Riviera

Sponsored by Harbor Shores on Lake Geneva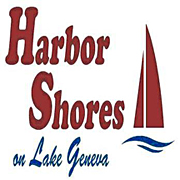 ---
---

Sponsored by The Lake Geneva Jaycees, City of Lake Geneva, and Fireworks Sponsors

The Annual Lake Geneva Jaycees Fireworks display begins promptly at 9PM (Sundown) on August 18th. Fireworks are shot off in Geneva Bay, downtown Lake Geneva and can be viewed from Library Park, the Lake Front, Riviera Beach, and Flat Iron Park in down town Lake Geneva. Too make a Donation to this years Fireworks Display click here.

(photo by Terry Mayer printed with permission Community Shoppers CSI Media)
FIREWORKS SPONSORS:
| | | |
| --- | --- | --- |
| | | |
| | | |
| Steinke Funeral Home | Kikkoman Corporation | |
| | Lake Geneva Oral & Maxillofacial Surgery | |
---
Boat Parade Information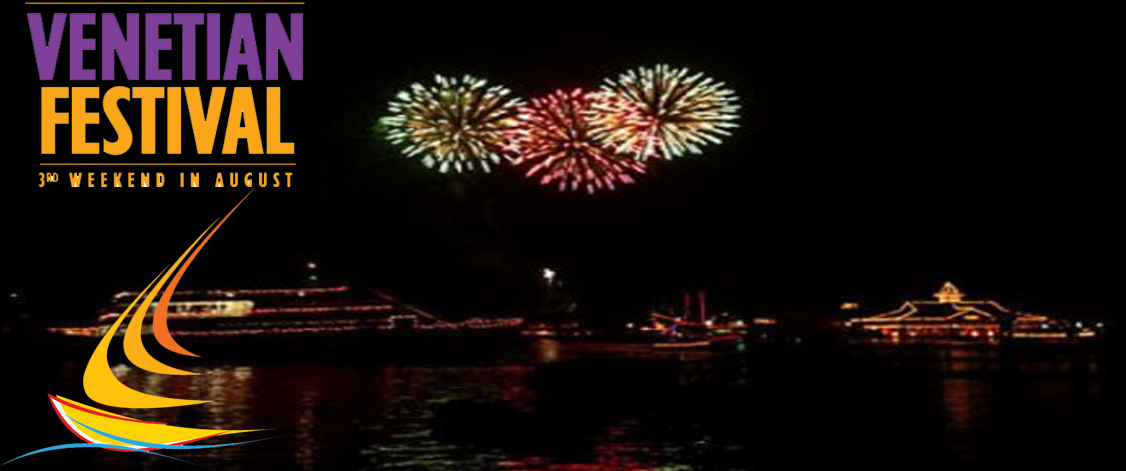 The boat parade is held on Sunday night August 18th on Geneva Lake right in front of Library Park in Lake Geneva and the Riviera. The lighted boat parade starts right at dusk with a fireworks display after that. This years theme is Mardi Gras. If you need anymore information please contact Harold Friestad at Gage Marine 262.248.5642
---
---
Most area hotels should have a shuttle, or may be in short walking distance from the festival. Below is a list of taxi's, trolley's and limousine services in the area.
Trolley of Lake Geneva
1050 Carey St
Lake Geneva, WI 53147
(262) 248-8304

Lakes Area Taxi
112 South 4th Street,
Delavan, WI 53115-1802
(262) 248-4770

A1 Limousine
(262) 245-1400

Senior Cab & Event Shuttle Services
W3099 Krueger Rd
Lake Geneva, WI 53147-2760
(262) 949-8294
---
---
Lodging Information
The Harbor Shores of Lake Geneva
http://harborshoreslg.com
300 Wrigley Drive
Lake Geneva, Wisconsin 53147
Phone: 262-248-9181
Reservations: 888-746-7371 (888-SHORES1)
Please visit the Lake Geneva Chamber of Commerce
Phone: 262-248-4416
Toll-Free: (800) 345-1020
Fax: 262-248-1000
E-mail: This e-mail address is being protected from spambots. You need JavaScript enabled to view it
---
Venetian Festival
Co-Chairman

& Advertising Director

Ryan Stelzer

(262)215-9112
This e-mail address is being protected from spambots. You need JavaScript enabled to view it
Venetian Festival Co-Chairman
Craig Evans

(815)703-6080
This e-mail address is being protected from spambots. You need JavaScript enabled to view it
Venetian Festival Boat Parade Chairman
David Broaden
(262) 818-5666
This e-mail address is being protected from spambots. You need JavaScript enabled to view it
Venetian Festival Entertainment Director
Chad Bittner WE ARE NO LONGER ACCEPTING SUBMISSIONS FOR BANDS FOR 2013

This e-mail address is being protected from spambots. You need JavaScript enabled to view it
Craft Fair Information
Ben Conley
This e-mail address is being protected from spambots. You need JavaScript enabled to view it or click
here


Venetian Festival Webmaster
Jeremy Kinsey
This e-mail address is being protected from spambots. You need JavaScript enabled to view it
Jaycees President

Hoss Rehberg
262-203-2686

This e-mail address is being protected from spambots. You need JavaScript enabled to view it
For more information About Venetian Festival, click here
Last Updated ( Thursday, 29 August 2013 09:46 )