For 97 years, Jaycees have been a force for good in America and around the world. Jaycees helped establish AirMail services in America with Jaycee Charles Lindbergh, and have raised millions of dollars for causes such as the Muscular Dystrophy Association and the March of Dimes. Your Home Town Lake Geneva Jaycee's have been hard at work for almost 55 years now!
| | | | |
| --- | --- | --- | --- |
| Thanksgiving Generosity 2015 | | | |
One of the most important events that the Lake Geneva Jaycees do on an annual basis is Thanksgiving Generosity.  Every Year the Jaycees collaborate with Stinebrink's Piggly Wiggly, in order to make the biggest impact that we can in our community donating to Lake Geneva Food Pantry and the Walworth County Food Pantry.  Helping those that need it most is why the Jaycees spend countless hours of volunteering raising funds to support our mission.  We are always humbled at this time of year to see so many in need.  Events conducted throughout the year like Venetian Fest, Duck Race, Pig Roast and many more all contribute to why the Lake Geneva Jaycees can contribute so much back to the area in which we love and live. 
This is only one of many examples of how the Lake Geneva Jaycees provide continuing support to programs and agencies throughout the Lake Geneva community.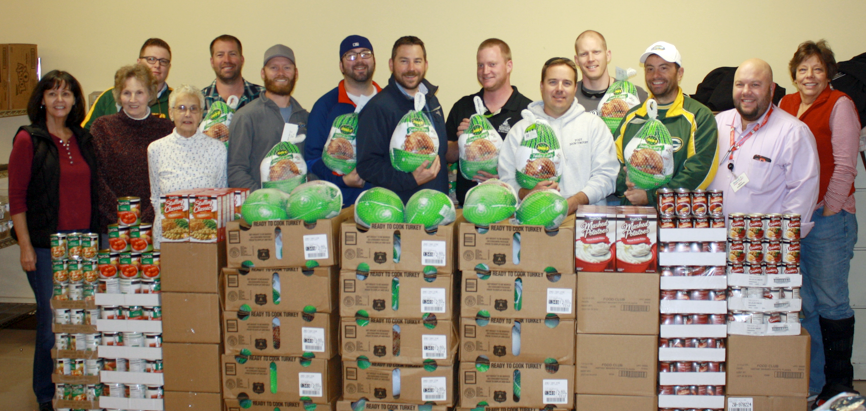 (pictured Sally Roth, Bev Erickson, Josh Kahle, Corrine Haimann, Rob Twyning, nate love, Ryan Fritz, Josh Spiegelhoff, Ryan Peck, Jim Pody, Dave Bergmann, Jeremy Kinsey, Matt Stinebrink, Lynn Wesolek)