Sponsors
Jaycee Admin Login
We have 333 guests online
The Lake Geneva Jaycees 21st Annual Venetian Festival Arts & Crafts Fair  is Saturday, August 22nd and Sunday, August 23rd, 2015 at Library Park.  For more information on how you can get your spot before its gone,  click here.  Booths start at just $140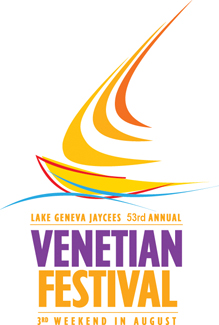 2015 VENETIAN FESTIVAL 53rd Annual
Created by and Sponsored by Lake Geneva Jaycees - since 1962
Days of Operation
August 19th through August 23rd, 2015
Wednesday - Friday 5pm to Midnight.
Saturday & Sunday Noon to Midnight.
Location: Flat Iron, Seminary and Library Parks - Lake Geneva, WI.

Last Updated ( Wednesday, 21 January 2015 14:12 )
Read more...
Lake Geneva Jaycees 21tst Annual Venetian Festival Arts & Crafts Fair




 Dear Crafters,

The Lake Geneva Jaycees would like to invite you to our 21st Annual Venetian Festival Arts & Crafts Fair. Venetian Festival draws thousands of tourists and locals to downtown Lake Geneva. This outdoor Craft Fair is Saturday, August 22nd and Sunday, August 23rd, 2015 at Library Park overlooking our beautiful lakefront. Spaces are $140 each, 10 ft. x 10 ft., sunny, grass, and may be gently sloped. Tenting is recommended, there in no electricity, and fair is held rain or shine.

Last Updated ( Thursday, 19 February 2015 15:47 )
Read more...

Purchase a piece of history!

50th Anniversary Venetian Festival Posters - LIMITED PRINTS!

 "Lake Geneva Jaycee's '50th' Venetian Fest artwork specially designed by our very own Neal Aspinall"

The colored 5-coat ink poster prints by Neal Aspinall are 18" x 24" horizontal on heavy stock paper for only $30.00

Your print will be shipped to you in a crush proof mail tube via USPS.  We accept all major credit cards and Paypal.

2015 Venetian

Festival Baggo Tournament

Created by and Sponsored by The Lake Geneva Jaycees.

---

Days of Operation

When:  11:30am to 3pm Saturday August 22nd
Where: Venetian Beer Tent
(SLM Jam Band will be playing from 12:30pm-3:30pm)
Cost: $40 per team.
Set up: Double elimination straight to 21

 100% of the Proceeds Benefit the Local Community by way of the Lake Geneva Jaycees! Thank you for your support!

Read more...