Sponsors
Jaycee Admin Login
We have 345 guests online
Headlines
We have built parks, playgrounds, hospitals, ball fields, and housing for the elderly while conducting service and support programs in thousands of communities nationwide. Come join us  today!
Sunday, 12 May 2013 00:00
Sand Box Fill 2013 a Success!

The 2013  Sand Box Fill started early on a beautiful Saturday morning. Sand Box Fill Chairman John Bouhl had this to say: "We would like to thank Otto Jacobs and Jesse Jacobs again for the sand donation and all his help this year and over the past years.   Without Jessie's help this event would not be what it is. I'd also like to thank Stahulak Concrete for the use of their Dump Truck!"
In attendance were Jaycees John Bouhl, Hank Peters, Luke Spiegelhoff,Jeff Stahulak, and Ryan Lash. Sand was donated by Otto Jacobs, and trucked in by Stahulak Concrete. Half a dozen boxes were filled this year. This event is all about making the area kids happy and giving back to our community!  It was a great day overall despite Jaycee Hank Peters locking his keys in the car.  John Bouhl had this to say about his fellow Jaycees "I personally would like to thank the guys for helping out today!"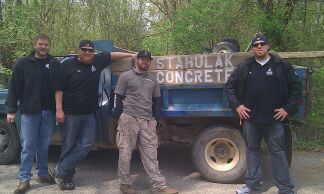 Pictured Left to Right: Luke Spiegelhoff, Jeff Stahulak, Hank Peters, Ryan Lasch. Not Pictured  John Bouhl
Last Updated ( Monday, 13 May 2013 09:37 )
Read more...
| | | | |
| --- | --- | --- | --- |
| Safety Town 2013 Registration | | | |

Lake Geneva Jaycees and

Geneva Lake's Women's Associatio

n are proud to sponsor Safety Town 2013.

Safety Town will be held from June 17 through June 21 at the Lake Geneva Middle School, 600 Bloomfield Road, Lake Geneva, WI. Your child must be entering 5K kindergarten to attend. Each session will be closed at 40 children. A confirmation letter will be mailed to you approximately two weeks prior to the session.

Last Updated ( Tuesday, 16 April 2013 08:37 )
Read more...

| | | | |
| --- | --- | --- | --- |
| Venetian Festival Posters For Sale | | | |

Purchase a piece of history!

50th Anniversary Venetian Festival Posters - LIMITED PRINTS!

 "Lake Geneva Jaycee's '50th' Venetian Fest artwork specially designed by our very own Neal Aspinall"

The colored 5-coat ink poster prints by Neal Aspinall are 18" x 24" horizontal on heavy stock paper for only $30.00

Your print will be shipped to you in a crush proof mail tube via USPS.  We accept all major credit cards and Paypal.

| | | | |
| --- | --- | --- | --- |
| Lake Geneva Fire Department Donation | | | |

Friday, 11 January 2013 10:34

The Lake Geneva Fire Department has received a $5400.00 donation to purchase a training prop door system. 

This prop will be used to train first responders in forcible entry situations.  Visit the Lake Geneva Fire Department web site for more information http://www.lakegenevafire.org

Last Updated ( Monday, 14 January 2013 11:48 )
Read more...