For 97 years, Jaycees have been a force for good in America and around the world. Jaycees helped establish AirMail services in America with Jaycee Charles Lindbergh, and have raised millions of dollars for causes such as the Muscular Dystrophy Association and the March of Dimes. Your Home Town Lake Geneva Jaycee's have been hard at work for almost 55 years now!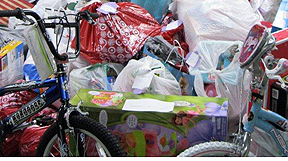 The Lake Geneva Jaycees and their wives will be buying clothes and toys for needy families throughout the lakes area.
Members will shop and purchase gifts and personally wrapped them and delivered them to families.
This year the Jaycees plan on delivering gifts for 35-40 kids.  The Jaycees will also help provide gifts for another 85 kids in conjunction with the employees of Peoples Bank and the Head Start program.
 File Image
Last Updated ( Tuesday, 19 February 2013 13:05 )